Canvas Prints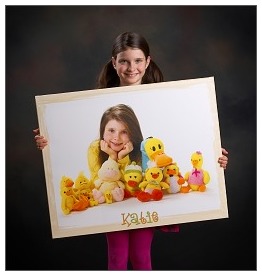 Sarah Slavik Photography produces the highest quality fine art canvas prints with rich and high fidelity colors. Using the latest technology, our archival prints are really the top photography product you can get from your portraits.
Canvas prints by Sarah Slavik Photography are not mass produced in a lab. All prints are hand printed in our studio with special attention to color tonality, skin tones, color saturation, picture details, and final composition. Canvas prints are perfect as gifts for your relatives, or decorations for virtually every room in your home.
Thanks to our results, we have been offered the opportunity to print the large canvas prints for other professional portrait photographers in the Atlanta area.
Printmaking Process
For all our Fine Art Prints and Heirloom Canvas Prints of sizes 11" x 14" and larger, we use 7-color advanced printing technology with Ultrachrome inks by Epson. Coated prints are rated for 100 - 200 years under proper conditions. The color quality is exceptional compared to standard 4-color printers or lab prints. Print resolution is up to 2880 dpi.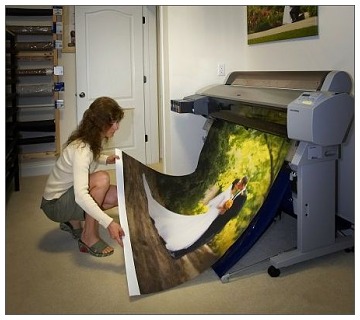 Printing on a canvas is not an easy process. Canvas media needs to be stored in a place with the proper humidity and temperature control. While in storage, the canvas needs to be handled very carefully. The surface is extremely fragile. Every little scratch will be visible on a final print.
Before making the final print, we always print several 5x5 inch samples to fine-tune the image. Once Slava approves the final proof, the actual printmaking process is ready to begin. The final print needs to dry for at least two days and then it is coated several times with a protective satin coating, which also gives the print the unique gallery look. A few hours after coating the canvas, the print is hand-stretched onto a wooden frame. For sizes up to 24x30 we use 5/8" Fredrix Stretcher Bars and for larger sizes 1.5" heavy duty stretcher bars. All canvas prints are gallery wrapped so the image wraps around the sides of the supports providing a finished look that can be hung with or without a frame.
We recommend treating canvas prints the same way as any original piece of art. They should never be exposed to prolonged sunlight or other harsh conditions. If you decide to frame them, instruct the framer to use quality UV non-reflecting glass with spacers.
Back to:
Portrait Photography Directory